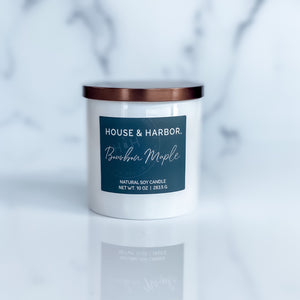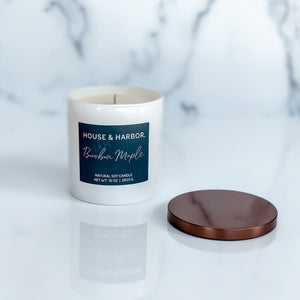 Great Gift!
My wife is from Ludington, Michigan and loves candles! I got her the Bourbon & Maple candle and she loved it! It has a great natural aroma! Timely arrival and quality gift!!!
Greatest Candle EVER!
On recommendation from a local friend, I ordered this candle on a whim. It is the GREATEST candle I have ever owned! Not only does it smell fantastic while burning, but it evenly distributes the aroma without over-powering. It also still sends a hint of maple into my kitchen even when it is just sitting, unlit, on my counter. Dear Santa: My stocking is in the shape of this Maple Bourbon delight! ;)
renewed love for candles!
before coming across these at a craft show, i had deemed candles as mostly toxic. this company makes the purest & cleanest burning ones with NO chemical additives, & they smell amazing. it gives my room an awesome scent even before i light it! thank you House & Harbor!
The best candle ever!
I've never gotten so many compliments on a candle before! This scent is absolutely delicious! If definitely burn this year round
Love the scent
Love the scent. It is perfect for fall!