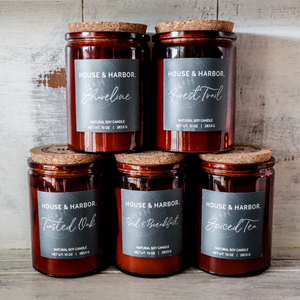 100% pleased!
Each scent of this collection is such a delight. I ordered this set to break up to give as gifts, and I will probably order the whole collection for myself ... it is too hard to choose a favorite!
Fragrance
Very pleasant know what your gender! Love them!!
Perfection in a jar!
Very comfy scents -- perfect all-seasons candles poured in a vintage, handcrafted jar which is my go-to reusable jar for all misc "stuff". Love it and we will be purchasing more, some as gifts but most just for home!
Love love
So I wanted to give my sister one of the candles I bought. She had hard time picking because she loved all the scents!
Very happy with the candles. Love the scents and how they burn😊